This is a public service blog on the activities of Logan's Run Rescue (LRR) to alert the public to the activities of this organization. Below is a letter published in the Cherokee Scout on 8/22/12 from 17 members of LRR who, with others, have resigned to protest the actions of Mark Lyden, Linda Bamfield, and Roy Bamfield. The actions of these individuals acting with the support of Board Members Waylon Hill, Jeanne Schick, Lynne Wilson and Terry Drinkut have hurt the reputation of Logan's Run Rescue.

This soap opera never seems to end. Following the letter is a summary of the recent events taken by the Logan's Run Rescue Board and Roy Bamfield in their ongoing persecution of those who have questioned their activities in LRR.
We are notifying the public of our resignation from Logan's Run Rescue (LRR). Mark Lyden, Linda and Roy Bamfield run LRR, transforming it into a "numbers-oriented" Spay/Neuter Organization. LRR President Mark Lyden punishes dissenting Members and has not released requested records of LRR activities to Members. Members have been censured, suspended, and made inactive, using procedures violating LRR Bylaws and the Board's corporate duties of "loyalty", acting in "good faith", and exercising "due care". LRR broke its "mission" to provide humane care for abandoned animals by sending rescue dogs to the Lucky Dog Program in Boggs Mountain Shelter, a program that euthanized dogs to make space available. Linda Bamfield's Medical Committee controls LRR rescue programs and recently (1) did not respond to a call for help for Montana, an injured stray dog found by Sue Borowski and Charles Hissem who then turned to Ron Stoessell for help; (2) authorized euthanization for Dakota, a Rescue dog fostered by Noella Morrison, without investigating or even meeting the dog to determine if she was aggressive; and (3) pressured LRR Founding Members Victoria and Sam Mabry to take 3 Rescue dogs to a kill shelter where the assumption was they would be euthanized.
Lacking the votes to remove LRR Founder Ron Stoessell, the Board censured and suspended him and filed two criminal complaints against him, and Roy Bamfield, Linda Bamfield's husband, called the police on him twice, and filed 3 criminal and 2 civil charges with all charges subsequently dropped. Without due process, Mark Lyden suspended Board Member Joan Anderson on defamatory charges and put Melody and Stuart Tabman and Millie Bloom Shank on inactive status with false charges of not participating in LRR activities. Mark Lyden arbitrarily rejected a fundraiser, without overhead and labor needed, planned by LRR CoFounder Londi Moore. Joan Anderson will be voted on for removal on August 23rd and no evidence supporting their charges has yet been provided. Carl Anderson is being investigated for not surrendering his personal recording device. We believe these actions are punishment for Members supporting Ron Stoessell and the rescue of dogs.
We are appalled by Mark Lyden attempting to take personal ownership of "logansrunrescue.com" on March 29th and Roy Bamfield swearing out an assault charge on May 9th, dismissed by the magistrate after talking with the Police Officer Thomas Woodard. We are sickened by malicious acts and autocratic removals of active hardworking members. Yet, we support Spay and Neutering by LRR but warn the public about entrusting rescue dogs to LRR.
Signed by
Ron Stoessell and Londi Moore, Joan and Carl Anderson, Melody Tabman, Victoria and Sam Mabry, Gail and Steve Sikes, Charlene Lanza, Millie Bloom Shank, Ann and Tom Dykstra, Doug and JoAnn Arnold, Birgit and Michael O'Driscoll
How Logan's Run Rescue Formed and What Happened in 2012
Logan's Run Rescue (LRR) was founded in March of 2009. The Rescue is named after Logan, my King Charles Cavalier Spaniel who died in 2008. Logan's grave is shown at the top of the page, next to the grave of his father Cameron on Fort Butler Mountain, on the "Little Easy" off Crisp Road. My wife (Londi Moore) and I (Ron Stoessell) had invited a group of (like-minded?) people to form LRR as Founding Members. Our mission was to provide humane care for abandoned animals and to promote spay and neutering to reduce the number of abandoned animals. That spring, I filed the Articles of Incorporation with the Secretary of State in North Carolina, applied for and received the 501 (c3) status with the Internal Revenue Service, and wrote the By Laws. LRR serves the Murphy area of SW North Carolina and adjacent areas of Georgia and Tennessee. And in the first 2 and a half years, LRR accomplished great things through the efforts of many Volunteers and new Members, rescuing, spaying and neutering over a 1,000 stray dogs and helping to spay and neuter over 2,000 pets.
In 2011, a group of 6 Founding Members on the Board, acting through the Medical Committee and its chairwoman Linda Bamfield, began to micro-control activities of LRR Members, making it difficult for Members to rescue animals. The issue came to a head on January 22, 2012, when acting on my own and not as a Member of LRR, I rescued Montana, a stray black Labrador Retriever with two broken legs, found on Highway 64 near the Tennessee border. LRR had been previously notified by Chuck and Sue Borowski who found the dog. But Linda Bamfield could not be contacted, and LRR did not respond. The picture below is that of Montana and her x-rays. Hover your mouse over the picture to see her fully recovered.
The next day, Montana had internal pins and plates installed on her lower front leg bones by a board-certified surgeon in Knoxville. I eventually spent several thousand dollars of my money plus 400 dollars donated by the public on Montana's medical expenses. An article on Montana, describing her rescue by me, appeared in the Cherokee Scout on February 8th. The article asked for donations from the public to pay for her injuries.
For my good deed, I was bullied at a private meeting on February 7th by Roy Bamfield (Linda's husband) and others, told I had broken North Carolina law while rescuing Montana and had to resign from LRR. This group did not have enough votes of the Founding Members to force me out of LRR. When I refused to resign, Roy Bamfield filed trumped-up civil "no contact" (on February 8th) and criminal "assault" (on March 22nd) charges against me. The assault charge was that I "chest bumped" him and the civil charges asked for a year-long injunction from me attending LRR events. In the civil charges, Roy Bamfield falsely implied that I threatened him by my ownership of a handgun. By the By Laws, a member becomes inactive if they do not attend a LRR event within a 6 month period. Not having enough votes to cast me out, they were trying to do it this way. But an audio tape of the February 7th meeting and the testimony of the President Joan Anderson and Secretary Carl Anderson, who stood between Roy and I, indicated there was no assault. Roy Bamfield and others can be clearly heard yelling at me, trying to get me to resign, and stating they would do their best to get rid of me.
Since this February 7th meeting, the three Board Members not supporting the medical committee, were harassed into resigning, including the President on April 5th, and the Secretary on March 27th, leaving the 6 Board Members in total control. These were Mark Lyden, Linda Bamfield, Waylon Hill, Jeanne Schick, Lynne Wilson, and Terry Drinkut. This group repeatedly broke the LRR By Laws and North Carolina state statues governing non-profits by holding private and secret (from the Members) unauthorized (not following the By Laws) Board meetings and attempting to prevent LRR Members from receiving the minutes of these meetings. To control the Board nomination process for the new Board to be elected in May, they put Roy Bamfield in charge of the nominating committee. I think this was done to intimidate competing candidates from the membership.
Between February 7th and February 11th, Vice President Waylon Hill bypassed the President and Secretary and Board Member Melody Tabman and took a vote at a private meeting or by phone (?) to censure me without due process. No minutes exist showing this vote. Censure is not covered in the By Laws and is governed by North Carolina statue 55A-6-31 and requires the Board Members to act in good faith, noticably lacking with this group. I received a certified letter, dated February 11th, on LRR stationary, notifying me I was censured for the events on February 7th and could no longer attend LRR functions. President Joan Anderson then sent out an email on February 14th to the LRR Members notifying them that the letter violated the By Laws and was void. The 6 Board Members ignored the President's email.
LRR Secretary Carl Anderson audio taped the March 20th private and unadvertised "emergency" Board meeting and sent out minutes to the members. Through internal emails, Board Member Terry Drinkut objected to the Members receiving the minutes. In those minutes, Mark Lyden claimed that "his loved ones" would be put in danger if he and the other Members of the Board were to meet to negotiate a solution with me. Waylon Hill and Linda Bamfield claimed that I had sent emails saying I would destroy Logan's Run Rescue. In emails among the Board, those claims were repeated along with statements that I am a lunatic, mentally unstable, off my medicine, and have physically threatened them. I responded with emails asking them for proof that I have done any of the charges above and have received no response.
The Soap Opera has continued. On March 29th, Mark Lyden attemped without success to take possession of the web domain name of Logan's Run Rescue, registered to me (Ron Stoessell), by transfering it from my account into his own account in domain.com. (On April 9th, I voluntarily offered them the domain name so their web page would not be in jeopardy, and it was transferred on April 10th.) On April 2nd, the civil and criminal charges of Roy Bamfield against me were combined to be tried together on April 25th. On April 5th, I arrived to attend a LRR Board Meeting at the Senior Citizens Center in Murphy. Unknown to me, five Board Members (Mark Lyden was absent) had cancelled the meeting and were waiting for me. Roy Bamfield called the police to come arrest me for violating Waylon Hill's letter of censure, in spite of the fact they had already cancelled the LRR function. They then all fled the scene before the police arrived, leaving me and other Members present to explain the situation. Officer Tillsdale said that regardless of the validity of the letter of censure, I could only be arrested if I were disruptive or refused to leave after the property owner asked me to leave. I think they fled because there were too many witnesess present to allow them to accuse me of being disruptive.
Their attorney Tessa Sellers sent me a letter, dated April 2nd, accusing me of berating the six Board Members and threatening legal action against me. I had previously sent emails to the LRR Members to inform them of the activities of these Board Members. These 6 Board Members had been on the Board for 3 years and had track records which were now exposed. They are politicians who planned on running for re-election, and they were not pleased that I have used my first amendment rights of free speech.
My compromise offer was to withdraw my threat of a civil lawsuit against these 6 board members for breaking the LRR By Laws in order to damage me, in return for them agreeing to follow the LRR By Laws, stop harassing me to resign or be censured, and not to discriminate against me and my supporters when we foster abandoned animals and want to bring them into LRR programs to be fixed and moved for adoption or to other rescues.
I was notified that my April 25th trial date had been continued to May 16th, and on April 25th, the Cherokee Scout ran an article on the issue. On May 2nd, I requested a copy of the minutes from Waylon Hill from the meeting where I was supposedly censured and on May 3rd, I received an email from the Board of Directors telling me I was not to attend the May 8th meeting. I attended the May 8th meeting and Roy Bamfield again called the police. As Officer Woodward followed me into the entry room of the building, Roy Bamfield shoved me aside as I tried to go by him, an action witnessed by Melody Tabman, the police officer, and Joan Anderson who had stepped into the room from the interior meeting room. The officer told me that Roy's charges and the letter of censure could not prevent me from being there and called the Murphy Police Chief to talk with Waylon and company. Officer Jacobs, the Murphy Police Chief, arrived and said that because Waylon Hill was in charge of the meeting and wanted me gone, I would have to leave which I did. At this meeting, a new Board was elected consisting of the remaining 6 board members from the old board plus some of their spouses, Jackie Slifer, and Joan Anderson. Much to the displeasure of the Old Board, Millie Bloom Shank nominated Joan Anderson from the floor and Joan was elected unanimously. Roy Bamfield tried to verbally bully Melody Tabman until Tom Dykstra stopped him, telling him he couldn't talk to her like that. Stuart Tabman video-taped the meeting.
The next day on May 9th, Roy Bamfield filed a new criminal assault charge against me, saying I pushed him from the rear, with Mark Lyden as his witness, before Magistrate Clift Owl. Joan Anderson asserts that Mark Lyden could not have observed anything since he was in the meeting room when the incident occurred. I told the magistrate that I was the one assaulted and asked him to talk with Officer Thomas Woodard about what happened at the meeting. After talking with Officer Woodard, Magistrate Owl withdrew the criminal charges. Because Roy Bamfield had to swear out an assault statement, he had to commit perjury in filing his false charge. On May 10th, I filed a criminal assault charge against Roy for the incident with Melody Tabman as my witness. Subsequently, the criminal assault charges on both sides and Roy's civil charge were dismissed in court on May 16th in return for a written and signed agreement to not contact each other and to act in a non-aggressive fashion if we were present together, as at an LRR event.
Dropping the charges should have been the end of it but it wasn't to be. On May 24th, the new LRR Board met in private (after Jackie Slifer sent out an email discouraging members from attending). The meeting was advertised as to only select board officers. However, they then suspended Joan Anderson and me with the usual inflamatory changes without due process. And on May 25th, Tessa Sellers and Roy Bamfield persuaded a magistrate that I had broken my written agreement to drop the chares, and he allowed Roy Bamfield to refile his original criminal assault charge by chest bump, this time with an arrest warrant. So nothing had changed! Roy Bamfield and the Board were still out to get me and anyone who had supported me.
On July 12th, the new LRR President Mark Lyden removed Melody and Stuart Tabman and Millie Bloom Shank from active status in LRR, without due process, stating falsely that they had not attended any LRR activities in the past 6 months. He ignored that Melody Tabman had been serving on the Board three months earlier and that all three of them had attended the recent meeting on May 8th in which Millie Shank had nominated Joan Anderson for the Board and in which the meeting was video-taped by Stuart Tabman. Obviously, Mark Lyden was punishing them for supporting Joan Anderson and myself.
President Mark Lyden moved rapidly to concentrate LRR's activities on Spay and Neuter and move away from rescuing dogs. He wanted to get rid of the hard-to-place LRR rescue dogs (e.g., pit bull mixes) that were presently with fosters. Victoria and Sam Mabry were pressured to send their two LRR SPAP dogs to the local kill shelter under the assumption they would be put down. LRR Medical Coordinator Linda Bamfield authorized euthanization for Dakota, an LRR SPAP dog that Linda had never even met (according to the foster Noella Morrison) for an unwitnessed "minor" dog fight in the neighborhood, without any proof or investigation to see if Dakota had participated in the fight.
On Mark Lyden's recommendation, LRR paid $100 per LRR rescue dog to Boggs Mountain Shelter to accept them in to their Lucky Dog Program to be adopted out and not euthanized. This eliminated LRR from doing the hard work of adopting out hard to place rescue dogs. After a site visit to Boggs in early 2012, Lynne Wilson was made the contact person between LRR and Boggs. On July 18th, Randy Travis of Fox 5 News in Atlanta broke the story that dogs were being routinely euthanized for space in the Lucky Dog Program. Mark Lyden denied any knowledge that this was happening and said the Asheville Humane Alliance had recommended Boggs to him. I checked with the Alliance, and Sarah Hess told me Mark Lyden had contacted her in January 2012 about spay/neuter clinics, and she suggested he talk with Boggs due to their geographic proximity. She did not recommend sending rescue dogs to Boggs. The LRR Board broke the Mission of LRR not to euthanize healthy non-aggressive rescue dogs, and Mark Lyden made a false assertion to justify his actions.
Mark Lyden admits to sending 4 dogs to Boggs of which one was euthanized. How many dogs were actually sent by Mark Lyden and Lynne Wilson to Boggs is unknown because the LRR records were not made available (requested by me). Other individuals in Murphy also paid to enroll their dogs in the Lucky Dog Program, after learning LRR was doing so, and some of them later learned their dogs were euthanized. The Georgia Bureau of Investigation (GBI) has completed its investigation of Boggs, and in February 2013, the District Attorney in Clayton, GA was contacting people and organizations, who sent dogs to Boggs that were euthanized, to bring felony charges. In the 2012 site visit by Mark Lyden and Lynn Wilson, they couldn't fail to notice that the County Animal Control building was in ther same building as the Boggs Mountain Shelter, that the same person ran both physical facilities, and that Boggs Mountain Shelter could only kennel about a hundred dogs. Experienced rescue workers would suspect that excess dogs, in a shelter with limited kennel capacity and large intake volume, were being transferred to adjacent Animal Control to maintain an "apparent" no-kill status. Both Mark Lyden and Lynne Wilson have years of experience in animal rescue. I wouldn't say these two are the sharpest tools in the tool shed, but were they truly oblivious to the obvious? I will further update this section when the criminal trials for individuals at Boggs Mountain Shelter take place.
In July, Mark Lyden filed two criminal complaints (through LRR) against me. The first was I acted as an unlicensed vet when giving medicine to a dog that I did not own, Montana, the injured dog with two broken legs on highway 64 in January, 2012. I told officer Helen Malinowski, investigating the complaints, that the medicine was given with the request and consent of the people who found the dog and only because it was an emergency. I also pointed out that LRR routinely gives medicine in non-emergency situations to dogs in its SPAP program that it doesn't own. The second was for animal cruelty for not immediately putting down Jeremiah, one of my LRR fosters who apparently killed an old dog in my pack in August, 2011. I pointed out to the officer that I wasn't present when the fight occurred and did not know what caused it. So I first contacted a professional dog trainer, Ralph Gibson, in Pelham Alabama to try to change Jeremiah's behavior and then put him down only when that didn't work. On July 20th, I subsequently filed a criminal complaint against Mark Lyden for attempting to take possession on March 29th of the domain name logansrunrescue.com which was in my possession. I do not know the status of any of these investigations.
In early August, President Mark Lyden notified Joan Anderson that she would be voted on for removal from LRR at the August Board Meeting. She was not given any specific evidence against her, just the usual inflamatory charges. Her husband Carl Anderson was notified that he was under investigation for not giving LRR his personal recording device used when he was Secretary of LRR. He responded that the previous Secretary Terry Drinkut did not surrender her personal recording device to LRR when she was no longer Secretary. Mark Lyden notified Londi Moore that he was cancelling the grant-raising event being planned by her that involved no time and effort on the part of LRR. Like a little dictator, Mark Lyden was setting the stage to remove all dissenting members!
My trial for assault with a chest bump was on August 7th. Roy Bamfield came with Linda Bamfield, Ray Schick, Lynne Wilson, Terry Drinkut, Mark and Kat Lyden, and Waylon Hill all hoping to see me convicted. Charlene Lanza, Londi Moore, Melody Tabman, Joan and Carl Anderson, Millie and Ron Shank, and Birgit and Mike O'Driscoll were there for my support. My group met before the trial and decided, that regardless of the outcome, we would all resign from Logan's Run. So, the stage was set. The judge held a pretrial sidebar with my attorney Zeyland McKinney and an Assistant District Attorny. We couldn't hear the conversation, but we could see the Judge and Zeyland laughing and the DA looking uncomfortable. I can only imagine what was said but I'm sure it had to do with the "alleged" belly thumper and thumpee. The DA walked back to her table and called Roy Bamfield to talk with her. He subsequently agreed to drop his charges if I resigned from LRR (which I subsequently did). Roy Bamfield signed a statement saying he was dropping the charges; however, I was not shown a copy of the statement - a fatal mistake on my part, it turns out! Afterward, outside the courthouse, Roy Bamfield told former Board member Melody Tabman they had a list of members to get rid of and she was on the top of the list and she "better watch her back". To my understanding, this was a verbal assault on her by Roy Bamfield, equivalent to what he had earlier done to my wife Londi Moore.
That should have been the end of it, but these soap operas never seem to end. In September, I was scheduled to attend a Workshop held by Best Friends Humane Society in Cherokee County. I was representating The Delta Humane Society of Louisiana, a rescue group whose Board I serve on. Learning of my attendance, Logan's Run Rescue "falsely" notified Best Friends that they had a court ordered "No Contact Order" against me. Ellen Gilmore of Best Friends then contacted Casey Lattimer, the President of The Delta Humane Society of Louisiana and learned of the disputes between the current LRR Board and ex-members. After further slandering of Ron Stoessell by Terry Drinkut, Ellen declared that none of the parties to the disputes could attend the workshop. These included Kat Lyden, wife of LRR President Mark Lyden, Terry Drinkut and 2 other LRR Members scheduled to attend. The obsessive hatred of me by Terry Drinkut resulted in her missing the workshop.
Unknown to me, back on August 7th, the DA had allowed Roy Bamfield to insert two additional conditions for dropping his charge: no contact between us and no email contact for me with Logan's Run Rescue. The first condition was not broken - why would I want to be in contact with Roy Bamfield - but the second was unreasonable. It should be pointed out that these were not "no contact court orders" but conditions set by Roy which he could later use to reinstate his charge against me. Londi Moore, my wife of 21 years was still a member of LRR, and by this condition I could not email her or any of my friends that were still members of LRR. Based on an email from me to LRR Members, Roy Bamfield with his lawyer Tessa Sellers persuaded Magistrate Roy Bateman on 9/7/12 to reinstate his 2/7/12 assault charge for the 3rd time. Unfortunately for "Ol" Roy, he got carried away in a "victory email dance" sending emails to Joan Anderson, ranting about her "sorry life", and included me as an email recipent. This violated a condition for me dropping my 5/8/12 assault charge against him on 5/16/12. On 10/9/12, Magistrate Joshua Postell reinstated that charge with an 11/14/12 court date. And on 11/14/12, the two cases were continued to 2/16/13. As I walked out of the courthouse that day, Roy Bamfield and his friends were standing outside in a group. Roy called out to me "Up Yours", and "Here Comes the Trash!", and "The Trash Stinks!". As I stood and watched "Ol" Roy rant and rave, he yells "Let's Get Out of Here!". And they moved away, crossing the street, like a pack of angry adolescents.
On 2/26/13 the District Attorney dismissed both assault cases with prejudice, meaning they could not be reinstated for later trial. This should be the end but "Ol" Roy just couldn't let it go. As I walked out of the courtroom, Roy Bamfield glared and told me "It ain't over till it's over!"
Roy Bamfield, Mark Lyden, and Linda Bamfield are running LRR with the support of certain Board Members: Jeanne Schick, Waylon Hill, Lynne Wilson, Terry Drinkut, and Kat Lyden. The juvenile, mean spirited, and hostile attitude of this group is incredible for adults of their age. They tolerate no opposing ideas or thoughts, so rescuers like me can no longer rescue dogs through LRR. I believe that the bad karma of this group will provide the ultimate payback for their deeds. I think the public in this area has the right to know how this group operates. And for that reason, I have posted this blog to inform them.
This is an update 1 and a half years later in October, 2014. At the end of 2013, President Mark Lyden decided to focus solely on spay and neuter by opening a new vet hospital. Members who wanted to do Rescue Work were thrown out by Mark Lyden. These included Terry Drinkut and Lynn Wilson along with Jackie Slifer whose husband Don Slifer wrote their latest grants for spay and neuter and Donna Demers who was their Medical Coordinator. Eventually most members left with them. Terry, Lynn, Jackie, Don, and Donna started their own Rescue "New Digs for Dogs" (see http://www.newdigsfordogsrecue.com/) in the Summer of 2014. In retaliation, President Mark Lyden used an attorney to threaten them with a lawsuit. However, the remaining members of LRR refused to proceed with the legal threats, further discrediting Mark. The finishing blow occurred when Dr. Burr at the Lake Chatuge Animal Hospital told Mark and LRR that a new vet hospital was not needed and would not be supported by the local vets.
Meanwhile, Ron Stoessell started his small Rescue "Lost Dogs Run" (see www.lostdogsrun.com/), in the Spring of 2014. Mark's protege and choice for the next LRR President, Linda Bamfield was caught on video tape during that summer changing price labels on items at the local Resale Thrift Store. She was thrown out of the store. Other Thrift Stores in the area, including LRR's Thrift Store, were notified of her attempted theft. The incident destroyed her reputation in Cherokee County. Her husband Roy Bamfield then suffered a massive heart attack in November of 2014, a couple of months after firing Lynn Wilson at the "jealous demand" of Linda Bamfield. I think these two incidents resulted from their bad Karma. Finally, Mark Lyden's reign of terror in LRR ended with Waylon Hill becoming the new LRR President in the Summer of 2014. Now LRR stuggles to find funding to continue spay and neuter while doing little rescue work. This is a sad ending to a once great organization and shows what happens when bad people run an organization to further their own ends.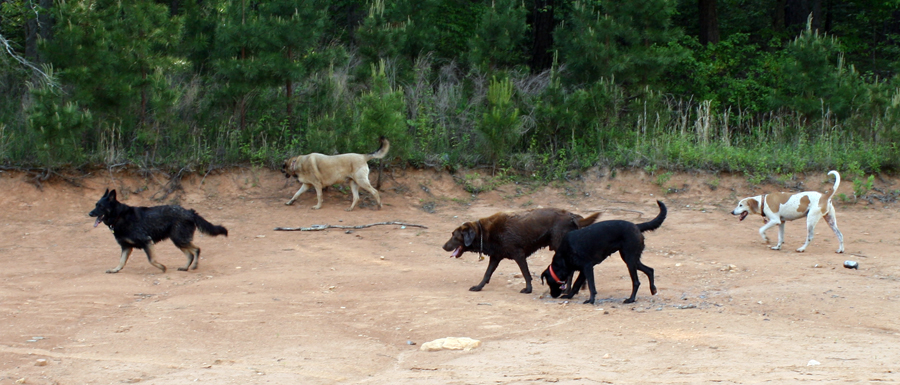 Ron's Permanent Pack on 5-1-12
Ron Stoessell
Updated in February, 2013
Father of Logan
Founder of Logan's Run Rescue

LRR dogs
fostered
by Ron & Londi




Gypsy (2010)




Blue (Lobo, 2010)
also fostered by
Gayle Ramsay




Littleman (2010)
also fostered by
Doro Garcia




Max (2010)
also fostered by
Joan Anderson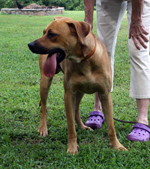 Red (2010)
Misguided Angel
also fostered by
Charlene Lanza &
Susan Cranston




Sasha (2010)




Sugar
(Sweetie, 2010)




Traveler
(Rufus, 2010)
also fostered by
Victoria Mabry




Bailey (2011)
also fostered by
Gayle Ramsay




Banjo (2011)




Barney (2011)
also fostered by
Gayle Ramsay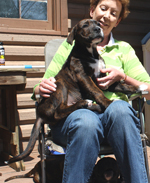 Baxter (2011)
also fostered by
Gayle Ramsay




Beauregard (2011)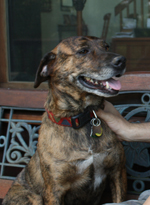 Jeremiah
(Ranger, 2011)
also fostered by
Roz Wilson




Rusty (2011)




Snoopy (2011)




Downtown Dave
(2011)




Lizzie (2011)
also fostered by
Paula Hembree